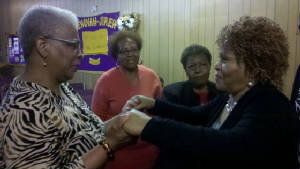 The Revival Crusade International, Inc.was established by Apostle Virginia Spencer in Biloxi, Mississippi. The first crusade was held on April 1, 1995. We are a ministry of restoration. A ministry where Healing and Deliverance is taking place in the Body of Christ and souls are being saved (receiving salvation).

Our ministry is simple and sincere before God. A ministry operating with the spirit of excellence, without prejudice, where there is no gender; for ye are all one in Christ Jesus (Galatians 5:28 KJV).

The Revival Crusade is working together with other pastors and five fold ministers to allow the corporate anointing to flow in the Body of Christ. "The Spirit of the Lord is upon me because he has anointed me to preach the gospel to the poor. He has sent me to heal the broken hearted to proclaim liberty to the captives and recovery of sight to the blind. To set at liberty those who are oppressed; to proclaim the acceptable year of the Lord (Luke 4:18,19)."

We proclaim this is the acceptable year of the Lord. It is harvest time! Souls are waiting, the fields are white (John 4:35).

Our Mission is to warn the saints and compel sinners to salvation (born again). We understand that applying II Chronicles 7:14 to our lives will lead to revival, revival, revival! We understand that by doing what God requires of us, puts a demand on the word of God for true revival.
We understand : True Revival is true repentance (turn from sin).

For truly It Is Later Than You Think! The word declares "If my people, which are called by my name shall humble themselves and pray, and seek my face, and turn from their wicked ways, then will I hear from heaven, and will forgive their sin and will heal their land (2 Chronicles 7:14 KJV).